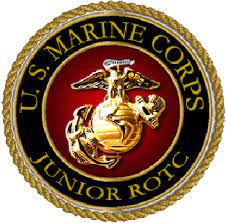 "Discipline is the bridge between goals and accomplishments. No life ever grows great until the individual is focused, dedicated, and disciplined. It is not, however, something that is automatically achieved at some defining moment in one's life. It is a characteristic which can be only be called upon if it has been exercised and developed over weeks, months, and years of committed effort. The time to begin developing your discipline is today."
Marine Corps Junior ROTC (MCJROTC)
A U.S. Marine Corps Sponsored character and leadership developing self-confidence, discipline, citizenship, leadership skills, and a sense of responsibility within the individual Cadet.
This is an elective class, however, Cadets are provided an opportunity to assist in their community through Program sponsored "civic service" activities. While this is not a military recruitment program, some Cadets choose to serve our nation in a branch of the armed forces. Those Cadets completing just two years of Junior ROTC can enter the service at a higher rank and pay. This course IS NOT a military recruitment program. Cadets who attend have no obligation to enter military service. Neither is it a "boot camp" to send uncontrollable, disrespectful, or apathetic youth. The student. must elect to participate in this program.
Classes and Activities
MCJROTC instructs a variety of classes and activities many of which are not normally available to the typical high school student but only to Cadets. They include the following; Leadership, Military Drill, Marksmanship, Raiders, Physical Training, Military Customs and Courtesies, Military History, Citizenship, Uniform Wear and Maintenance, First Aid, Grooming Standards, Cyber Patriot (computers), and Public Speaking (does not satisfy the graduation required Applied Communication class but provides insight and practical experience for the successful speaker).
Extracurricular Activities
Cadets who wish to participate in extracurricular activities have the following options from which to choose; Competition Drill Teams, Color Guards (opportunities to both compete or merely perform exhibitions at regular school functions are available), Competition PT Team/Raider Challenge, Competition Rifle Marksmanship Teams (Olympic style shooting), Academics (oral presentation and current events questions).
Cadets who compete on any of these teams earn individual awards.