Home  |  Programs  |  Faculty  |  STEM in Action  |  Request Info  |   Links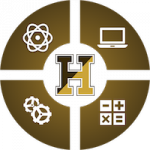 What is STEM?
STEM is the field of study that involves the interconnected subject areas of science, technology, engineering and mathematics. Science is the systematic study of the world around us. Technology refers to anything that is man-made and includes anything from a can opener to a super-computer. Engineering is the design, testing and building of new products and technologies. Mathematics is the investigation of patterns in shape and quantity and examples can be found in engineering, financial applications and even sports.
LINK: STEM Brochure
Why should I join the STEM Academy?
Career Opportunities
STEM occupations are projected to grow by 17% from 2008 to 2018, compared to 9.8% for non-STEM occupations.
STEM workers earn more! On average, they earn 26% more than non-STEM workers.
Some STEM careers require only two years of formal post-secondary education.
Source: US Dept of Commerce, STEM: Good Jobs Now and for the Future. ESA Issue Brief, July 2011
Preparation for the Future
While enrolled in the STEM Academy, students will:
learn valuable 21st century skills to prepare them for college and careers
have access to interesting field trips, guest speakers and internships
have the opportunity to explore a variety of STEM fields through our "awareness – exploration – immersion" model
be taught by talented faculty with connections to higher education and industry professionals.