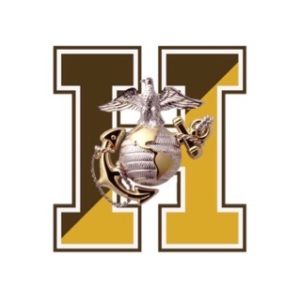 What is MCJROTC?
MCJROTC is a U.S. Marine Corps-sponsored character and leadership development course focused on developing self-confidence, discipline, citizenship, leadership skills, and a sense of responsibility within the individual Cadet.
What is required of Cadets?
Cadets will be required to wear a military uniform at least once a week for the entire school day. All cadets will be required to maintain minimum acceptable grooming standards in everyday dress and uniform (male Cadets will be required to shave, maintain a "military" style haircut, and not be allowed to wear earrings).
An essential requirement of the Cadet is a cooperative attitude and willingness to attempt new experiences. Cadets who refuse to make an effort or are disobedient will be dropped from the program.
Who is eligible to participate?
Any boy or girl in grades 9 through 12 enrolled in the Haverhill School District and attending Haverhill High School. All candidates must be physically qualified to participate in the rigorous physical training aspects of the program (Parents, please call to discuss any concerns you may have regarding your Cadet).
What is the cost of attending?
There is no cost to enroll in the program. Cadets will be issued a number of uniforms which will be their responsibility to maintain and must be returned at the end of the academic year. Articles lost or damaged beyond normal wear and tear will be replaced at the Cadet's expense.
What are the benefits of participating?
This is an elective class; however, Cadets are provided an opportunity to assist in their community through program-sponsored "civic service" activities.
MCJROTC provides regular feedback on how well the Cadet is doing in the form of promotions and military-type awards.
Additionally, many students indicate that the friendships they make while a Cadet are some of the most steadfast associations they have in high school.
Finally, while this is not a military recruitment program, some Cadets choose to serve our nation in a branch of the armed forces. Those Cadets completing just two years of Junior ROTC can enter the service at a higher rank and pay.
What MCJROTC is not!
The course is not a military recruitment program. Cadets who attend have no obligation to enter military service.
Neither is it a "boot camp" to send uncontrollable, disrespectful, or apathetic youth. The student must elect to participate in this program.