Haverhill High School
Newsletter –

November 13-17

, 2023
Tue Nov 14, 2023 – MCAS Retakes Math Session I
Tue Nov 14, 2023 – Haverhill Public Library is hosting "Scholarships, Grants & Loans" live via Zoom on 11/14 at 6:30 pm! Register in advance at https://links.collegeplanningteam.com/haverhill11. Learn the best college cost-reduction strategies & insider information about scholarships, grants and loans to make your college planning easy and affordable!
Wed Nov 15, 2023 – MCAS Retakes Math Session II
Wed Nov 15, 2023 – HPS Wellness Caregiver Series, Part 2 – see flyer below for more information Registration Link
Wed Nov 15, 2023 – OPEN HOUSE for all incoming 7th & 8th Graders – HHS Library/Mall area 6PM-7PM (please park behind the building)
Thu Nov 16, 2023 – Picture Re-Takes
Fri Nov 17, 2023 – Fall Play  "Deadline" 7PM HHS Auditorium
Sat Nov 18, 2023 – Fall Play "Deadline" 2PM and 7PM HHS Auditorium
Mon Nov 20, 2023 – Dodgeball Tournament! HHS Gymnasium 3PM – See FLYER for details on how to sign up a team!
Wed Nov 22, 2023 – Early Release
Sun Nov 26, 2023 – DEADLINE FOR SENIOR PHOTOS! Upload before this date!
Wed Dec 6, 2023 – Coffee House! Save the Date – plan a performance
District Calendar / En Espanol

Shout out to our own elite!
Michael Downs (HHS Principal) – US Air Force
Richard Burton (HHS Substitute teacher) – US Navy
Justin Wanner (Ms. Labelle's step son) – US Navy (currently deployed)
Nicole Donnelly (HHS SRO) – US Navy
Doug Wilcox (HHS ELD Teacher) – US Navy
Lisa Begley (HHS Health & Wellness teacher) – US Army
Dinorah Peralta (11th Grade Assistant Principal) – US Army
Jeremy Coates (HHS School Nurse) – US Army
David Sanborn (HHS Substitue teacher) – US Army
Scott Brouilette (HHS Head of Security) – US Army
1st Sgt David Grinstead (HHS Senior Marine Instructor) – USMC
Guny Sgt Henry Danis (HHS MCJROTC Instructor) – USMC
Paige Crimmin (HHS Health & Wellness Teacher) – US Coast Guard
Casey Weimar (Ms. Wiemar's son) US Air Force
Message from: Prior Enlisted – Captain Michael Downs
Today is Veterans Day and there is no school. Some 30-plus years ago I enlisted in the military and I recited the oath that so many men and women had done before me. The day I took the oath, I chose to defend the Constitution and the United States of America from all enemies foreign and domestic. My group of enlistees was of every color, creed, and religion. On that day we became brothers and sisters. People sometimes confuse military culture with intolerance, but nothing could be further from the truth, as we all worked together and protected one another to complete the mission and come home safely. We did so no matter what our differences were and often were the only family some of us had. The cost to protect all our freedoms is paid by the 1% of Americans who defend this nation so that the other 99% can have the freedoms so many like to cite. For this reason, we are given 2 days a year for this country to be reminded of that burden. One of those days is Veterans Day. To my living brothers and sisters in the City of Haverhill, Happy Veteran's Day to you and your family for their support of you. If you have a family member in the military please reach out to them.
---
My good friend and owner of the Hidden Pig on Washington Street graciously donated 25 turkeys to support HHS families for Thanksgiving. ~ with thanks, Mike Downs
Visit the Haverhill High School Facebook page
---
Do you want to send a shoutout? Feel free to email: HHSNews@haverhill-ps.org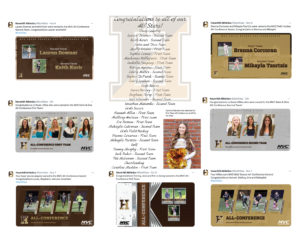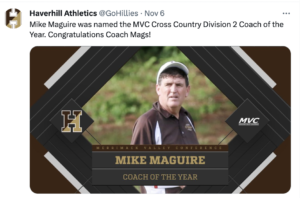 ---

RUTH'S HOUSE SCHOLARSHIP OPPORTUNITY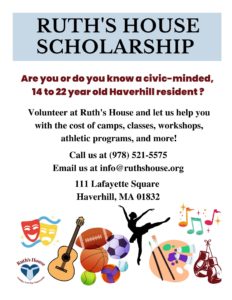 Are you or do you know a civic-minded, 14 – 22 year old Haverhill Resident?
Volunteer at Ruth's House and let us help you with the cost of camps, classes, workshops, athletic programs, and more!
Call us at (978) 521-5575
Email us at info@ruthshouse.org
Ruth's House
11 Lafayette Square
Haverhill, MA 01832
---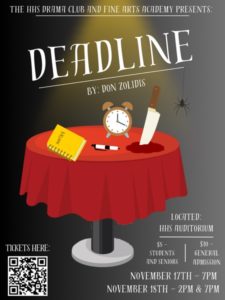 THE HHS DRAMA CLUB and FINE ARTS ACADEMY PRESENTS:DEADLINE by: Don Zolidis
Located: HHS Auditorium
$5 Students and Seniors/$10 General Admission
Friday, November 17th – 7PM
Saturday, November 18th 2PM and 7PM
For tickets: http://ticketstage.com/T/HAVERHILLHS
---

HAVERHILL HIGH SCHOOL
DODGEBALL TOURNAMENT 2023
Monday, November 20, 2023
Starts at 3:00PM
HHS GYMNASIUM
Sign up your team!
Room 217
$50 per team ($5PP)
Deadline: Friday, NOV 17 at 2:05PM
Don't want to play? Come watch the tournament! $5 at the door
---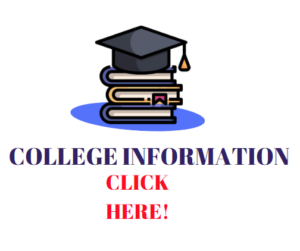 Stay up to date on College representatives who will be visiting with students at Haverhill High School.
HHS College Visits Calendar – to see future dates, please toggle with the arrow keys.
High School Transcript Request Form
---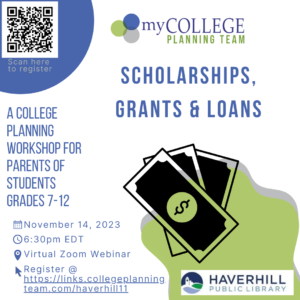 Haverhill Public Library is hosting "Scholarships, Grants & Loans" live via Zoom on 11/14 at 6:30 pm!
Register in advance at https://links.collegeplanningteam.com/haverhill11.
Learn the best college cost-reduction strategies & insider information about scholarships, grants and loans to make your college planning easy and affordable!
---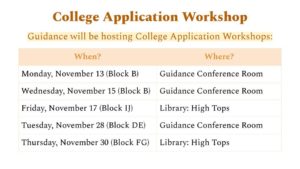 ---
COLLEGE OF THE WEEK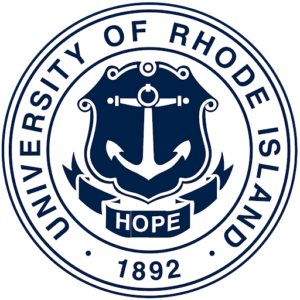 Location: Kingston, RI
Mascot: Rhody the Ram
Enrollment: 14,687 Undergraduate, 2165 Graduate
About: 
The University of Rhode Island is a diverse and dynamic community whose members are connected by a common quest for knowledge.  As a major research university defined by innovation and big thinking, URI offers its undergraduate, graduate, and professional students distinctive educational opportunities designed to meet the global challenges of today's world and the rapidly evolving needs of tomorrow.
At the University of Rhode Island, you'll find unique double majors, interdisciplinary minors, and world-renowned international programs, in addition to a broad range of graduate, certificate, and advanced degree programs—countless options to create your future.
Admission Criteria:
Completed Common Application & Essay

Official high school or secondary school transcript 

$65 nonrefundable application fee

SAT and/or ACT scores 

School Counselor recommendation

Teacher recommendation letter 
Average GPA: 3.45
Average Standardized Test Score:  Test Optional
Average: 1190, ACT 25
---
CAREER OF THE WEEK
Education Required

: Master's degree and licensure



Typical Tasks Associated with This Career:
Diagnose and treat individuals with vocal and cognitive communication impairments

Conduct specialized testing 

Provide therapy for individual client's needs

Work closely with physicians, psychologists, and teachers to monitor progress

Instruct patients and family members in strategies to cope with or avoid communication-related misunderstandings

Record information on the initial evaluation, treatment, progress, and discharge or clients



Expected Income:

Average: $77,500

Job Growth

: 27% next 10 years!

Related High School Coursework

anatomy and physiology

biology 

AP biology

English

psychology/sociology
---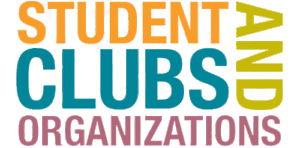 Join a CLUB!! It's not too late. Enjoy meeting students with similar interests. Click on the link above.
---
---
BACKPACK 68
Due to poverty levels in Haverhill, all students receive free breakfast and lunch at school.
But there are 68 hours between lunch on Friday and breakfast on Monday when many students go hungry.
Thank you so much to all the community members who have already reached out! It takes a village!
* If you are in a position to help, please reach out to Nancy Burke at Haverhill High School. *
---
ACCESS 21 is an Out-of-School Time Enrichment Program offered at Haverhill High School for students in grades 9-12. Enrichments opportunities include:
Culinary Skills
Glee Club
Internship
Life Skills
Robotics Club
Applications for the 2023-2024 school year are available online through the Haverhill Public Schools' Discovery & Access 21 Website. For more information, contact the Discovery Club/Access 21 office or through the link: https://Discoveryclub.haverhill-ps.org
---
After school tutoring!

Tuesdays and Thursdays from 2:30PM to 4PM
Room M12
Late bus available at 4PM. All are welcome to stay for extra help.
Late Bus information:
 Your student will need a bus pass from a teacher, coach, or club advisor in order to be able to access the late bus.
The bus picks up at 4PM. Students are not allowed to stay in the building to roam the hallways, they must have a reason to be here,
or they will be escorted out of the building. They will be able to wait in the cafeteria from the time they are finished until 4PM.
---

DO NOT BLOCK EXIT LANE WHEN DROPPING OFF/PICKING UP STUDENTS
Parents/caregivers will NOT be allowed to drive past the new drop-off/pick-up area (behind the pool building) for the safety of students and staff. Having the drop-off/pick-up area near student parking would/will produce too many safety concerns.
Please plan accordingly, as this is going to cause significant disruption to our parking and drop-off/pick-up processes for at least 4 months.
Three suggestions:
Arrive 10-15 minutes earlier than normal for drop-off.
Arrive at 2:30 after buses are gone and the small loop in front of the high school will be available for pick-up
Have your student(s) take the bus.
Again, if you you arrive at your normal time you will experience delays and contribute to traffic congestion.
Sincerely,
Michael J. Downs, M.Ed., C.AG.S Ed., Principal, Haverhill School
---

Please click LINK for more information.
---
Mental Health  Essentials  for  Parents  & Caregivers
with Mental Health Collaborative
Wednesday, November 15, 2023
7PM-8:30PM – Zoom Registration
Translation available during zoom: specify language at registration
Step 1: Register for Zoom: https://tinyurl.com/y7333wm6
Step 2: Check email for Zoom link
Step 3: Sign in and join via the link in your email on 11/15/2023 by 7PM
Haverhill parents & caregivers will learn strategies to include mental health as part of their parenting, how to identify when loved ones need support for mental health, how and where to get professional support, how to use strategies for self-care for themselves and their loved ones, and much more! This is strictly educational!
Wellness Caregiver Series Webinar
Here is the presentation for those who may have missed it:  
Wellness Caregiver Series Webinar recording-Vaping 101
We will be following up on this important discussion soon. Please look for our upcoming events.
Thank you for your time and attention on this important matter.
---
Please contact Anna Sabella or Sam Aiello for more information.
** Anyone can purchase a yearbook, however it will only feature seniors **
---
CLASS OF 2024 YEARBOOKS!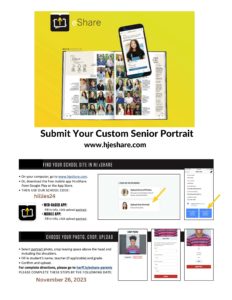 Purchasing:
Yearbooks can be purchased using the information below.
yearbookordercenter.com
code: 6716
Senior Portraits:
Senior portraits must be uploaded to the Herff Jones website by November 26th.
Students who do not upload a portrait will have their current SchoolBrains photo uploaded.
If no photo is in SB, they will be listed under "not pictured".
We do not accept photos via email, hard copies, etc.
hjeshare.com
hillies24
select — > PORTRAITS
Updated Chromebook Policy
We offer an outside company for an insurance plan for Chromebooks. Please follow this link. **
The deadline for returning students to purchase Chromebook insurance has been extended to December 1st, 2023
** Please remember to have your students charge their Chromebooks every night! And bring their charged Chromebooks to school every day. 
We will no longer be able to give loaner devices. If your students' Chromebooks is broken, or missing, please have them alert their
AP offices as soon as possible so that they can get a replacement device. Lost/missing Chromebooks are $200 each, without insurance.
Lost chargers are $40 each. Invoices will be added to your students account.
** The only exception to this policy is if the student has an assessment on a specific block/day. **
---
Bus information:
HHS – AM Bus routes/numbers
HHS – PM Bus routes/numbers
---
Locker update:
All lockers that were requested have been assigned.
If your student still needs a locker, please see Mrs. Zbitnoff in the M Wing Office.
---
Come out and show your HILLIE pride!
Winter Sport Sign up: WINTER SEASON – STARTING DATE Nov. 27, 2023
Basketball, B/G (V/JV/FR)
Wrestling (V/JV)
Ice Hockey, B (V/JV), G(V)
Skiing, B/G
Swimming, B
Indoor Track, B/G
Cheerleading (Basketball)
Gymnastics, G
**All home games are free to students – bring your student ID or show your School Brains account on your phone **
---
Check out our very own on campus store for all of your Hillie gear!
---
Catch up with the Hillies student run newspaper!
---
Does your student need a work permit for a job in Massachusetts?
Here is the information: and the MA Work Permit Application
Students can get their workers permit issued (with fully completed application and proof of age) at Haverhill High School in the M Wing Office and the C Wing Office before and after school or during lunches.
They can also get it issued at City Hall M-F 8AM-4PM.