Haverhill High School
Newsletter –

November 20-24

, 2023
Mon Nov 20, 2023 – Dodgeball Tournament! HHS Gymnasium 3PM – See FLYER for details on how to sign up a team!
Wed Nov 22, 2023 – Turkey Toss! Back field – Seniors Only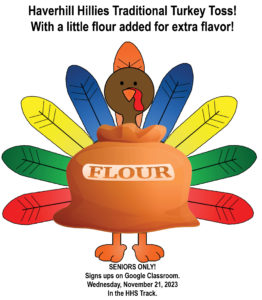 Wed Nov 22, 2023 – Early Release
Thu Nov 23-24, 2023 – Thanksgiving Break! No School – See you on Monday November 27!
Sun Nov 26, 2023 – DEADLINE FOR SENIOR PHOTOS! Upload before this date!
Tue Nov 28, 2023 – Student Council/Student Government Elections!
Tue Nov 28, 2023 – Japan Trip 2025 – Meeting after school with Mr. Kempinski for all interested students! Room M14
Wed Nov 29, 2023 – EC Parent Information Night
Wed Dec 6, 2023 – Coffee House! Save the Date – plan a performance
Wed Dec 20, 2023 – Winter Concert! Come get your cheer on for the holidays! Always a great event.
District Calendar / En Espanol
---
Do you want to send a shoutout? Feel free to email: HHSNews@haverhill-ps.org
SHOUTOUTS
Students of the Month – October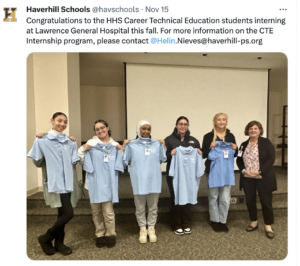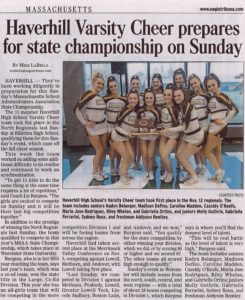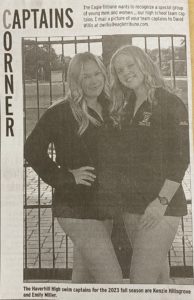 ---
The Fine Arts department would like to give a shout out to several of our students who applied to a local gallery to exhibit their work and were accepted! Last night was the opening, but the show is up thru January 2024! Tons of great work for sale if you are looking for a cool holiday gift!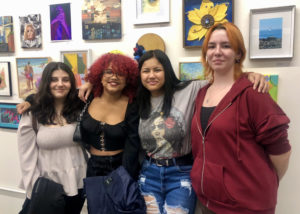 One of our students (Elina) sold her first piece last night! Congrats!
Elina Sam, Nico Vaillencourt, Vasiliki Vourtsas, Dean Reinosso, Amara Ezeoke, Mila Barbrick, Jorie McIrvin, and Keira Bushey
---
Follow along with all of Haverhill Public Schools Social Media sites!
MCJROTC has a brand new website! Check out all of the amazing things they are doing here at Haverhill High School!
---
Come out and show your HILLIE pride!
The Haverhill High School winter sports seasons start on November 27. If you are interested in participating in a winter sport, please complete the entire registration process by November 17. 

Sports being offered this winter include: Basketball, Cheer, Gymnastics, Indoor Track, Ice Hockey, Skiing, Boys Swimming and Wrestling.

All tryout/practice schedules and registration information can be found at www.haverhillhillies.com or by following the links below:

ImPACT Testing (Basketball, Cheer, Gymnastics, Ice Hockey and Wrestling)

If you have any questions, please contact (978) 374-5732 or email athletics@haverhill-ps.org
**All home games are free to students – bring your student ID or show your School Brains account on your phone **
---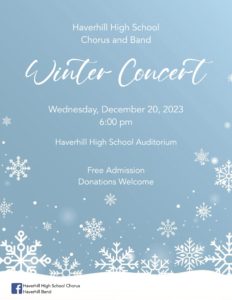 Haverhill High School
Chorus and Band
WINTER CONCERT
Wednesday, December 20, 2023
6:00PM
Haverhill High School Auditorium
Donations Welcome
---
RUTH'S HOUSE SCHOLARSHIP OPPORTUNITY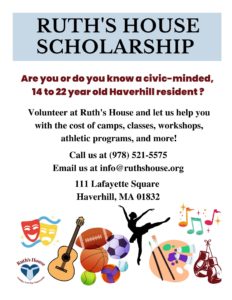 Are you or do you know a civic-minded, 14 – 22 year old Haverhill Resident?
Volunteer at Ruth's House and let us help you with the cost of camps, classes, workshops, athletic programs, and more!
Call us at (978) 521-5575
Email us at info@ruthshouse.org
Ruth's House
11 Lafayette Square
Haverhill, MA 01832
---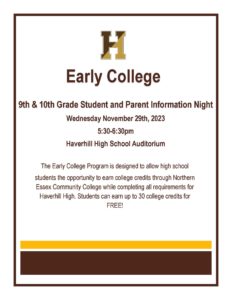 Early College
9th & 10th Grade Student and Parent Information Night
Wednesday November 29th, 2023
5:30PM-6:30PM
Haverhill High School Auditorium
The Early College Program is designed to allow high school students the opportunity to earn college credits through Northern Essex Community College while completing all requirements for Haverhill High.
Students can earn up to 30 college credits for FREE!
---

HAVERHILL HIGH SCHOOL
DODGEBALL TOURNAMENT 2023
Monday, November 20, 2023
Starts at 3:00PM
HHS GYMNASIUM
Sign up your team!
Room 217
$50 per team ($5PP)
Deadline: Friday, NOV 17 at 2:05PM
Don't want to play? Come watch the tournament! $5 at the door
---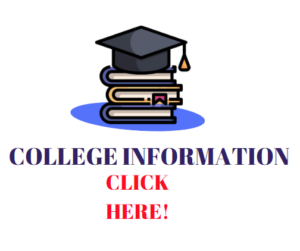 Stay up to date on College representatives who will be visiting with students at Haverhill High School.
HHS College Visits Calendar – to see future dates, please toggle with the arrow keys.
High School Transcript Request Form
---
COLLEGE OF THE WEEK
University of Vermont

Location: Burlington, VT
Website: www.uvm.edu
Mascot: Catamounts
Enrollment: 11,898  undergraduate, 1,672 graduate
About: 
Established in 1791, the University of Vermont is a Public Ivy and top research university located in Burlington, Vermont.  Its size is large enough to offer a host of diverse ideas, resources, and opportunities, but small enough to foster close faculty-student mentorships. Students' educational experience and activities are enriched by UVM's proximity to a major city, farmland, and forests.  UVM offers seven undergraduate colleges and schools, a graduate college, a college of medicine, and honors college. 
Fast Facts:
100+ bachelor degree programs

17:1 Undergraduate student/ faculty ratio

80 graduate programs

30 doctoral programs

36 accelerated master's programs

M.D. program

4 pre-professional advising options (pre-medical, pre-dental, pre-vet, pre-law)
What is Needed to Apply:
CommonApp or Coalition Application

College essay (optional). Optional essay prompts can be found

here

.

Official high school transcript

One letter of recommendation

Test Optional-SAT/ACT scores

Application fee: $55.00

Some programs may require additional information to be submitted along with the student's application.
Average GPA: 3.8 Average SAT: 1310 Average ACT: 30-34
Take a virtual tour of UVM by visiting, https://www.uvm.edu/admissions/undergraduate/virtual-visit-uvm
---
CAREER OF THE WEEK
Teacher
Education Required

: 

Teachers need at least a bachelor's degree to earn certification in Massachusetts.

completed a master's degree in a discipline

complete an approved teacher training program

complete a student teacher internship

pass a state licensing exam
How to know if you should be a teacher?
Do you love sharing knowledge with people and helping them to explore their own curiosities? Are you good at explaining things in a way that makes people feel encouraged to learn more? Does the idea of helping to shape minds excite you? If you answered yes to these questions, you may be a teacher in the making!
As of Oct 30, 2023, the average annual pay for a School Teacher in Massachusetts is $56,694 a year. 
Annual Openings

: Very High
Related High School Coursework
Child Development

Computer Applications

Psychology

Public Speaking

Teacher Assisting

Classes in a particular subject of interest
---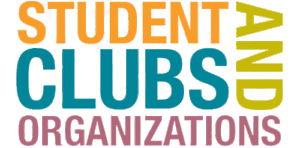 Join a CLUB!! It's not too late. Enjoy meeting students with similar interests. Click on the link above.
---
BACKPACK 68
Due to poverty levels in Haverhill, all students receive free breakfast and lunch at school.
But there are 68 hours between lunch on Friday and breakfast on Monday when many students go hungry.
Thank you so much to all the community members who have already reached out! It takes a village!
* If you are in a position to help, please reach out to Nancy Burke at Haverhill High School. *
---
ACCESS 21 is an Out-of-School Time Enrichment Program offered at Haverhill High School for students in grades 9-12. Enrichments opportunities include:
Culinary Skills
Glee Club
Internship
Life Skills
Robotics Club
Applications for the 2023-2024 school year are available online through the Haverhill Public Schools' Discovery & Access 21 Website. For more information, contact the Discovery Club/Access 21 office or through the link: https://Discoveryclub.haverhill-ps.org
---
After school tutoring!

Tuesdays and Thursdays from 2:30PM to 4PM
Room M12
Late bus available at 4PM. All are welcome to stay for extra help.
Late Bus information:
 Your student will need a bus pass from a teacher, coach, or club advisor in order to be able to access the late bus.
The bus picks up at 4PM. Students are not allowed to stay in the building to roam the hallways, they must have a reason to be here,
or they will be escorted out of the building. They will be able to wait in the cafeteria from the time they are finished until 4PM.
---

DO NOT BLOCK EXIT LANE WHEN DROPPING OFF/PICKING UP STUDENTS
Parents/caregivers will NOT be allowed to drive past the new drop-off/pick-up area (behind the pool building) for the safety of students and staff. Having the drop-off/pick-up area near student parking would/will produce too many safety concerns.
Please plan accordingly, as this is going to cause significant disruption to our parking and drop-off/pick-up processes for at least 4 months.
Three suggestions:
Arrive 10-15 minutes earlier than normal for drop-off.
Arrive at 2:30 after buses are gone and the small loop in front of the high school will be available for pick-up
Have your student(s) take the bus.
Again, if you you arrive at your normal time you will experience delays and contribute to traffic congestion.
Sincerely,
Michael J. Downs, M.Ed., C.AG.S Ed., Principal, Haverhill School
---

Please click LINK for more information.
Please contact Anna Sabella or Sam Aiello for more information.
** Anyone can purchase a yearbook, however it will only feature seniors **
---
CLASS OF 2024 YEARBOOKS!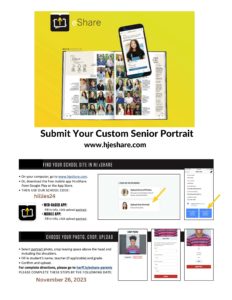 Purchasing:
Yearbooks can be purchased using the information below.
yearbookordercenter.com
code: 6716
Senior Portraits:
Senior portraits must be uploaded to the Herff Jones website by November 26th.
Students who do not upload a portrait will have their current SchoolBrains photo uploaded.
If no photo is in SB, they will be listed under "not pictured".
We do not accept photos via email, hard copies, etc.
hjeshare.com
hillies24
select — > PORTRAITS
---
Updated Chromebook Policy
We offer an outside company for an insurance plan for Chromebooks. Please follow this link. **
The deadline for returning students to purchase Chromebook insurance has been extended to December 1st, 2023
** Please remember to have your students charge their Chromebooks every night! And bring their charged Chromebooks to school every day. 
We will no longer be able to give loaner devices. If your students' Chromebooks is broken, or missing, please have them alert their
AP offices as soon as possible so that they can get a replacement device. Lost/missing Chromebooks are $200 each, without insurance.
Lost chargers are $40 each. Invoices will be added to your students account.
** The only exception to this policy is if the student has an assessment on a specific block/day. **
Bus information:
HHS – AM Bus routes/numbers
HHS – PM Bus routes/numbers
---
Locker update:
All lockers that were requested have been assigned.
If your student still needs a locker, please see Mrs. Zbitnoff in the M Wing Office.
---
Check out our very own on campus store for all of your Hillie gear!
---
Catch up with the Hillies student run newspaper!
---
Does your student need a work permit for a job in Massachusetts?
Here is the information: and the MA Work Permit Application
Students can get their workers permit issued (with fully completed application and proof of age) at Haverhill High School in the M Wing Office and the C Wing Office before and after school or during lunches.
They can also get it issued at City Hall M-F 8AM-4PM.