Haverhill High School
Newsletter –

October 30 – November 3

, 2023
Fri Oct 27, 2023 – HOMECOMING FOOTBALL GAME! 7PM at the Haverhill Stadium
Mon Oct 30, 2023 –  College Application Assistance! After school @ 2:10 – guidance conference room
Mon Oct 30, 2023 – National Honor Induction Ceremony at Haverhill High School Auditorium 6PM – On invitation
Tue Oct 31, 2023 – College Application Assistance! DE period at the HHS library high tops
Wed Nov 1, 2023 – AP Gov's Mayoral Debate – 6PM-7PM HHS Auditorium – Public welcome
Wed Nov 8, 2023 – MCAS Retakes ELA Session I
Thu Nov 9, 2023 – MCAS Retakes ELA Session II
Thu Nov 2,2023 – College Application Assistance! K period at the HHS library high tops
Thu Nov 2, 2023 – HHS Term 1 Grades CLOSE
Tue Nov 14, 2023 – MCAS Retakes Math Session I
Wed Nov 15, 2023 – MCAS Retakes Math Session II
Wed Nov 15, 2023 – HPS Wellness Caregiver Series, Part 2 – see flyer below for more information Registration Link
Wed Nov 15, 2023 – OPEN HOUSE for all incoming 7th & 8th Graders – HHS Library/Mall area 6PM-7PM (please park behind the building)
Fri Nov 17, 2023 – Fall Play "Deadline" 7PM HHS Auditorium
Sat Nov 18, 2023 – Fall Play "Deadline" 2PM and 7PM HHS Auditorium
Wed Dec 6, 2023 – Coffee House! Save the Date – plan a performance
District Calendar / En Espanol
Visit the Haverhill High School Facebook page
Do you want to send a shoutout? Feel free to email: HHSNews@haverhill-ps.org
---
College Application Assistance!
Seniors, if you need any help with your college applications, please join one of these drop in sessions with a counselor:
Monday, October 30th after school @ 2:10 – guidance conference room
Tuesday, October 31st, DE period at the HHS library high tops
Thursday, November 2nd, K period at the HHS library high tops
---
Student and Coach Shoutout

Tommy Murphy (Sophomore) won the MVC Conference Golf Championship October 16, 2023 with +1, after playing a playoff hole at the Mount Pleasant Golf Club. This also happens to be Coach Kevin Murphy's 25th year coaching the Haverhill High School Golf team. A true family affair! Congratulations to the Murphy family!
---
The girls volleyball team won the conference championship for a third straight year. The team finished the regular season with 17 wins and one loss and is ranked No. 2 in the state.
The girls cross country team also won the MVC championship this fall. They finished undefeated in the division with a perfect 5-0 record. It was the first MVC championship for girls cross country since 2011.
We are excited to host the MVC swim championships this weekend. The 10 teams in the conference will be competing at our pool over the next three days, starting with the dive championship tonight (Thurs), girls championship tomorrow (Fri) and Coed division championship on Saturday.
These are just a few impressive highlights to recognize at this time.  Many of our other fall sports teams and individual athletes are still competing and will take part in the upcoming MIAA playoffs. We can provide a full recap of all fall season accomplishments in the coming weeks.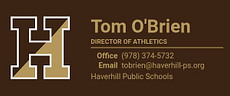 ---
CONGRATULATIONS HILLIES!
Haverhill High School led by AIM/REACH students won the Metcalf and Wood Memorial Awards at the Topsfield Fair for Most Total Ribbons and most Blue Ribbons in the Junior Fruits and Vegetables category! They submitted entries for the Wall Hanging, Poster and Pumpkin Decorating contests (group and individual) in addition to fruits and vegetables which were harvested right here on campus. Haverhill High has had a history of success in the Junior Fruits and Vegetables category going back to 2019. Mr. Downs and Ms. Lu stopped by our Homeroom to celebrate the success of our AIM/REACH program and Haverhill High School. We are so proud of our students.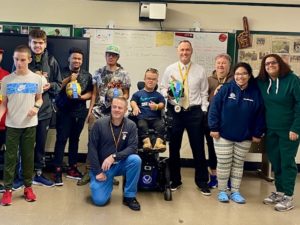 ---
HHS CTE Biomedical Science and Healthcare Occupations Seniors were fortunate to have guest speakers from Parkland Medical Center! Randy DeLee is the VP of Operations and was involved with planning and design for the new free-standing Emergency Room in Plaistow, NH; Dylan Brothers is the Academic Partnership Coordinator and shared information about their internship programs (for school year and summer opportunities).  This was perfect timing as the Biomed students had just completed their project on ER Design and were able to share their projects with our guests – who were impressed with how thorough they were!  If you are interested in hearing more about the CTE programs at HHS or getting involved with our students, please contact Lisa Hunt, Work-Based Learning Coordinator at lhunt@haverhill-ps.org.
---
HHS CTE Biomedical Science and Healthcare Occupations
students were fortunate to hear from
Medical Examiner Laura Foley
.  The conversation highlighted the career, including education and experience that is required.  A focus was made to stress the importance of seatbelts and the dangers of drug use, as well as the sad realities of suicide. We were proud of our students, their maturity receiving this information and the thoughtful questions they posed to Ms. Foley.  For more information about the Career Technical Education programs at HHS:
cte.haverhill-ps.org/
---
The HHS CTE Biomedical Science Freshman classes had the opportunity to tour Northern Essex Community College and spend time in their Forensics classroom! Students had the opportunity to do hands-on activities related to fingerprinting, shoe print casting, blood spatter analysis, hair comparisons on a dual microscope and even spent time at a crime scene marking, tagging and bagging evidence! What a great learning opportunity! Thanks to the staff at NECC who shared their time with us!
---
Due to poverty levels in Haverhill, all students receive free breakfast and lunch at school.
But there are 68 hours between lunch on Friday and breakfast on Monday when many students go hungry.
* If you are in a position to help, please reach out to Nancy Burke at Haverhill High School. *
---
ACCESS 21 is an Out-of-School Time Enrichment Program offered at Haverhill High School for students in grades 9-12. Enrichments opportunities include:
Culinary Skills
Glee Club
Internship
Life Skills
Robotics Club
Applications for the 2023-2024 school year are available online through the Haverhill Public Schools' Discovery & Access 21 Website. For more information, contact the Discovery Club/Access 21 office or through the link: https://Discoveryclub.haverhill-ps.org
---
ROTC Newsletter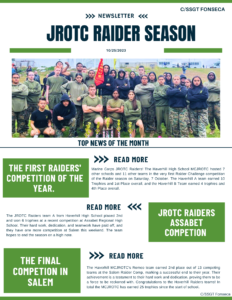 ---
Haverhill Public Schools
Multilingual Learner Education Department
Free English Classes for Parents of Haverhill Students!
Students are welcome too!
Registration Night
October 24th, 2023
Consentino School Library
6:00pm – 8:00pm
Parents will have the opportunity to increase their English skills, computer literacy skills, and learn about HPS websites and parent portals.
HPS students will have teacher directed homework support and enrichment activities. Parents and students will connect for 30 minutes at the end of the session for a Family Literacy experience.
Classes will be held on Tuesday and Thursdays from 6:00pm – 8:00pm at the Consentino School.
Four sessions:
Session 1:  November 9, 2023 – December 21, 2023.
Session 2:  January 9, 2023 – February 15, 2024.
Session 3:  March 5, 2024 – April 11, 2024.
Session 4:  April 30, 2024 – June 6, 2024.
Students who miss less than 2 sessions will be invited to continue in the program.
Chromebooks are available to parent/adult learners to learn how to access HPS information.
Children of the adult ESL HPS parent must be between the ages of 5-12 to attend the program.
For more information about enrollment, contact: Jasmin Rosario at (978) 420-1945 or jasmin.rosario@haverhill-ps.org
---
After school tutoring!

Tuesdays and Thursdays from 2:30PM to 4PM
Room M12
Late bus available at 4PM. All are welcome to stay for extra help.
Late Bus information:
 Your student will need a bus pass from a teacher, coach, or club advisor in order to be able to access the late bus.
The bus picks up at 4PM. Students are not allowed to stay in the building to roam the hallways, they must have a reason to be here,
or they will be escorted out of the building. They will be able to wait in the cafeteria from the time they are finished until 4PM.
---

DO NOT BLOCK EXIT LANE WHEN DROPPING OFF/PICKING UP STUDENTS
Parents/caregivers will NOT be allowed to drive past the new drop-off/pick-up area (behind the pool building) for the safety of students and staff. Having the drop-off/pick-up area near student parking would/will produce too many safety concerns.
Please plan accordingly, as this is going to cause significant disruption to our parking and drop-off/pick-up processes for at least 4 months.
Three suggestions:
Arrive 10-15 minutes earlier than normal for drop-off.
Arrive at 2:30 after buses are gone and the small loop in front of the high school will be available for pick-up
Have your student(s) take the bus.
Again, if you you arrive at your normal time you will experience delays and contribute to traffic congestion.
Sincerely,
Michael J. Downs, M.Ed., C.AG.S Ed., Principal, Haverhill School
---

October 25, 2023

Good Morning,

Today we practiced an A.L.I.C.E. school safety and emergency preparedness drill involving staff from Central Office and first responders. The premise of the drill was an "unwanted intruder" who posed a threat to the safety of the school building.  Our goal, which was accomplished, was the reinforcement of decision making to either evacuate or shelter-in-place according to A.L.I.C.E. protocols and procedures.  We will conduct another drill again later in the school year.  Please rest assured there is no information to suggest any of the schools or children are at greater risk.  We are doing responsible planning to keep them safe.

Thank you.

Mike Downs
Haverhill High School Principal
Please click LINK for more information.
---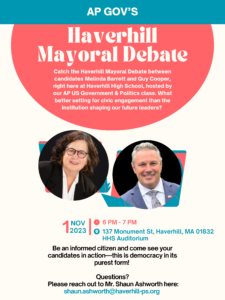 AP Government's
Haverhill Mayoral Debate
Catch the Haverhill Debate between Candidates Melinda Barrett
---
Mental Health  Essentials  for  Parents  & Caregivers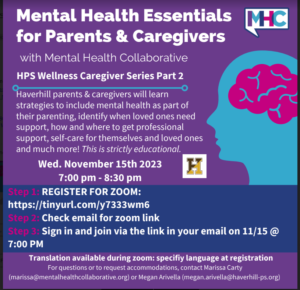 with Mental Health Collaborative
Wednesday, November 15, 2023
7PM-8:30PM – Zoom Registration
Translation available during zoom: specify language at registration
Step 1: Register for Zoom: https://tinyurl.com/y7333wm6
Step 2: Check email for Zoom link
Step 3: Sign in and join via the link in your email on 11/15/2023 by 7PM
Haverhill parents & caregivers will learn strategies to include mental health as part of their parenting, how to identify when loved ones need support for mental health, how and where to get professional support, how to use strategies for self-care for themselves and their loved ones, and much more! This is strictly educational!
Wellness Caregiver Series Webinar
Here is the presentation for those who may have missed it:  
Wellness Caregiver Series Webinar recording-Vaping 101
We will be following up on this important discussion soon. Please look for our upcoming events.
Thank you for your time and attention on this important matter.
---
Please contact Anna Sabella or Sam Aiello for more information.
** Anyone can purchase a yearbook, however it will only feature seniors **
---
CLASS OF 2024 YEARBOOKS!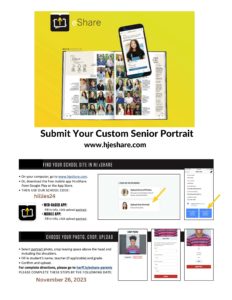 Purchasing:
Yearbooks can be purchased using the information below.
Yearbooks are currently $45 — prices will increase on SATURDAY, 9/30. 
yearbookordercenter.com
code: 6716
Senior Portraits:
Senior portraits must be uploaded to the Herff Jones website by November 26th.
Students who do not upload a portrait will have their current SchoolBrains photo uploaded.
If no photo is in SB, they will be listed under "not pictured".
We do not accept photos via email, hard copies, etc.
hjeshare.com
hillies24
select — > PORTRAITS
---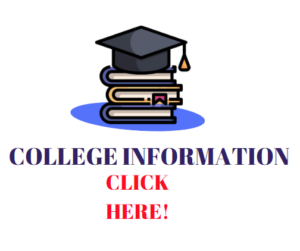 If you missed our Senior Family Night to prepare for life after High School, please check out our presentation!
Please contact your guidance counselors with any questions!
Stay up to date on College representatives who will be visiting with students at Haverhill High School.
HHS College Visits Calendar – to see future dates, please toggle with the arrow keys.
High School Transcript Request Form
---
Updated Chromebook Policy
We offer an outside company for an insurance plan for Chromebooks. Please follow this link. **
The deadline for returning students to purchase Chromebook insurance has been extended to December 1st, 2023
** Please remember to have your students charge their Chromebooks every night! And bring their charged Chromebooks to school every day. 
We will no longer be able to give loaner devices. If your students' Chromebooks is broken, or missing, please have them alert their
AP offices as soon as possible so that they can get a replacement device. Lost/missing Chromebooks are $200 each, without insurance.
Lost chargers are $40 each. Invoices will be added to your students account.
** The only exception to this policy is if the student has an assessment on a specific block/day. **
---
Bus information:
HHS – AM Bus routes/numbers
HHS – PM Bus routes/numbers
---
Locker update:
All lockers that were requested have been assigned.
If your student still needs a locker, please see Mrs. Zbitnoff in the M Wing Office.
---
Come out and show your HILLIE pride!
Winter Sport Sign up: WINTER SEASON – STARTING DATE Nov. 27, 2023
Basketball, B/G (V/JV/FR)
Wrestling (V/JV)
Ice Hockey, B (V/JV), G(V)
Skiing, B/G
Swimming, B
Indoor Track, B/G
Cheerleading (Basketball)
Gymnastics, G
**All home games are free to students – bring your student ID or show your School Brains account on your phone **
---
Check out our very own on campus store for all of your Hillie gear!
---
Does your student need a work permit for a job in Massachusetts?
Here is the information: and the MA Work Permit Application
Students can get their workers permit issued (with fully completed application and proof of age) at Haverhill High School in the M Wing Office and the C Wing Office before and after school or during lunches.
They can also get it issued at City Hall M-F 8AM-4PM.
---
Catch up with the Hillies student run newspaper